This year the experiences were extremely rich! I started very strong and for the first few weeks I was ahead of schedule for my best run last year. Perhaps, my participation in the 6-day race at the end of April, which I considered as preparation for the summer super race, also had a positive effect. However, somewhere around the day # 18 of the run, my right knee began to bother me. I changed my shoes, tried to follow the setting of the foot, but the pain only progressed. This forced me to switch to walking from the 20th day. There was a feeling that I was putting off the decisive battle with pain …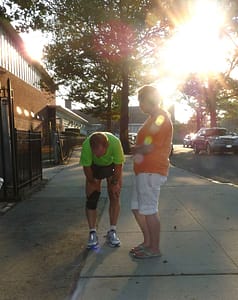 The first lap on the morning of the 24th day I did 19 minutes, although even on the worst days I did it in 15 minutes. Several times I had to stop because my right knee simply did not allow me to move … When around 3 pm I decided to take painkillers, in order to somehow continue walking, then on the next lap there was a wonderful shot of pain on the other side of the knee. All wet, I barely made it to the trailer. This was my last lap 33 in day 24 (and for the Race that year in general). On this day, the air temperature was still around 40 degrees with terrible humidity. Most likely from the heat, I threw up a few more times. In general – the whole bouquet!
Doctors later diagnosed a torn ligament… Although my determination continued to hope for a resumption of running, the fact remains that for the first time in my history of participating in the 3100, I had to retire due to an injury.
Over the years, gradually awareness began to come of why this happened. I can only say that every event outside has its own prehistory. Plus, I distinctly feel that I have a very strict soul that only wants the fastest progress…
But despite all the external tragedy of the situation, and the shock for my wife, who helped me from the start of the run, I had no doubts: I would run next year. And so it happened.
It took me over 3 months to recover and start running normally. The ligament recovered and even became even stronger!