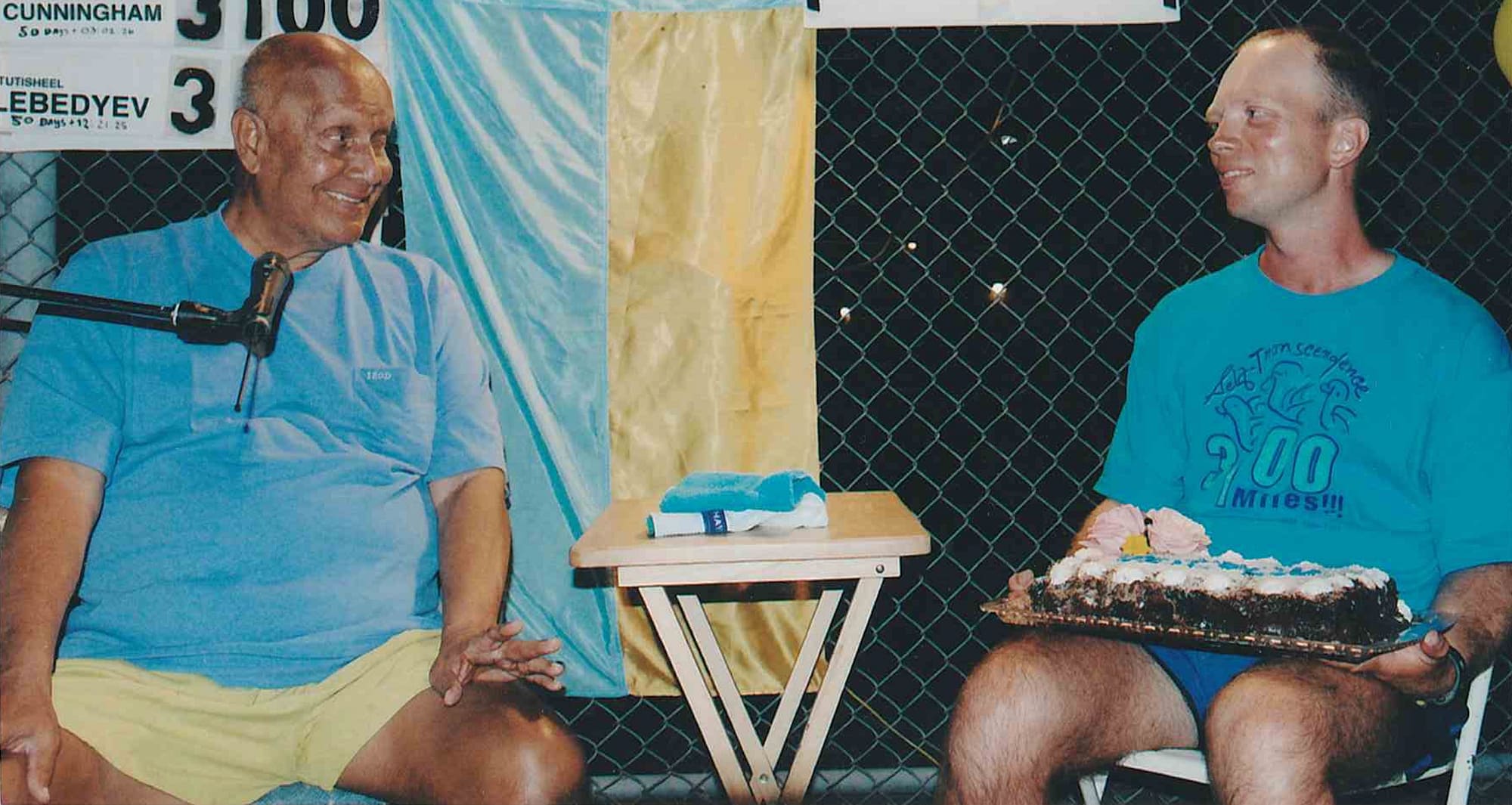 In 2007, I started the longest race in the world for the fourth time. In short, I can say that it was the most mystical race – I got everything that I had only dreamed of all these years. I ran in the heat, was exceptionally consistent, ran the second half 15 hours faster than the first. All the findings that I described in my first three books have worked 100% in practice this year. The most interesting thing is that I had the feeling that it was all already planned in advance … and this is just the beginning.
The start of the run took place on June 17 at 6:04 am. At the start – 12 runners from 9 countries. Three – for the first time: Grahak, Vlastimil and Petr (winner of the 10-day race in New York this year). The distance was successfully covered by 11 runners.
It turned out that was the last 3100-Mile Race with physical presence of Sri Chinmoy. He passed away on Oct 11 later this year…
I finished on day 51 – August 6 at 18:35. Guru came to celebrate my finish in blue t-shirt and yellow shorts – colours of the Ukrainian flag.
3100-Mile 2007 results
Runner

age

country

result

1. Ashprihanal Aalto

36

Finland

43+04:26:32

Finnish record

2.

Srdjan

Stojanovic

44

Serbia-Montenegro

46+02:46:35

3. Pranab Vladovich

31

Slovakia

46+14:02:54

Slovak record

4. Smarana

Puntigam

36

Austria

48+04:13:54

Austrian record

5. Ananda-Lahari Zuskin

32

Slovakia

49+16:58:56

6. Grahak Cunningham

30

Australia

50+03:02:26

Australian record

7. Stutisheel Lebedev

37

Ukraine

50+12:21:25

record of Ukraine

8. Pranjal Milovnik

34

Slovakia

52+07:01:32

9. Peter Spasil
28
Czech Republic

52+12:54:08

10. Abichal Watkins
46
Great Britain
55+08:32:41 Great Britain record
11. Suprabha Bjekord
51
USA
58+07:54:27
11th finish in the raw!
12. Vlastimil Dvorachek
47
Czech Republic

stop on day 11
Pictures from the 2007 Race
Interview with the runners on day 7 and 21